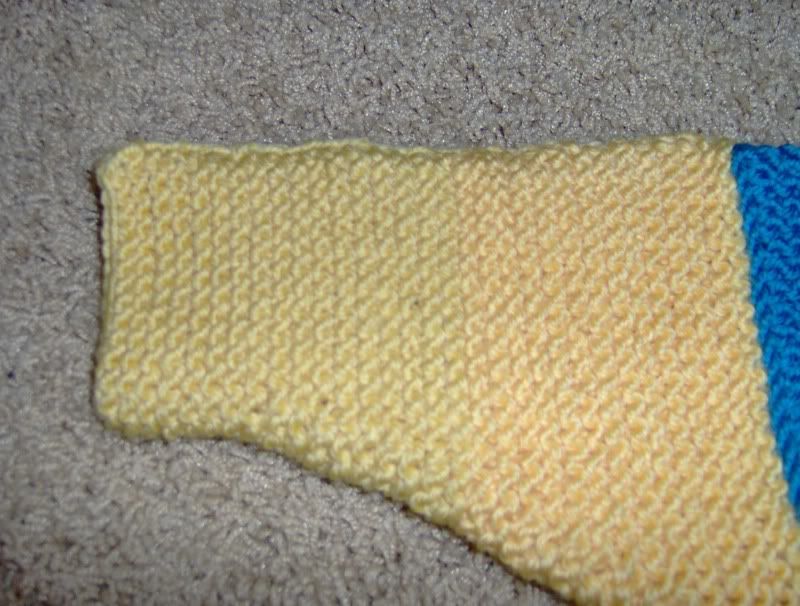 AAAARRRRGGGGGHHH!!
Notice the color difference??? I can't believe I didn't notice this last night when I was finishing the sweater!! I was buying buttons for it and I was in brighter light at the store and I noticed the difference in the yarn!! I bought my yarn at the same time, but didn't check the dye lots!! I usually do!! Now what? I will take off the sleeve and either knit another in the darker yellow, but that doesn't match the front panel, or else my daughter suggested knitting it in the lighter blue. What do you think? Any comments are welcome!!

I think I will go ahead and start another sock and give myself a break from the baby sweaters. I need to start the other one, but since the babies are still really little, there is no hurry!! I am just really bummed out!!!

Confession time!! I went shopping for some dressy clothes today!! I got a nice black skirt that was needed, some black shoes, (not really necessary), a plaid wool skirt, a wool blazer, and a sweater set. I have casual clothes and work out clothes, but nothing to wear for church or a nice dinner out. I have lost some weight, so I am down three sizes. I deserve some clothes, right?

Off to get some rest. I think I am coming down with a cold. Happy knitting!!