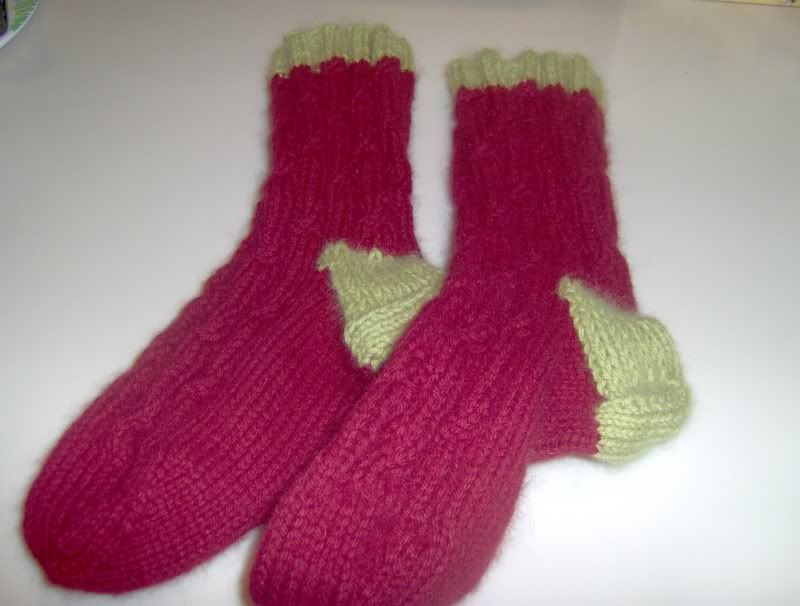 I finally have another completed project. This patterns is from http://www.gardineryarnworks.com/ and is Karen's Sugar-Free Sock Pattern. I think the yarn is Lush, but I misplaced the ball bands, so I'm not sure. I started another pair of mittens for Maggie to go with her ski jacket. I am also anxiously awaiting my package from Blue Moon Fibers for the STR club. I can't wait to see the yarn and pattern!!
//www.scoutj.com/wanted people to post pictures of their tatoos, so here is mine. I love the Green Bay Packers, so that is why I got this tatoo. Some people get tatooed for sentimental reasons, I just wanted to get one for my favorite football team. Simple as that. I thought about getting one on my shoulder of a hummingbird, just cuz I like them too, but haven't done so yet. Do you see that cute little puppy in the right hand corner? Mr. Todd loves to lick toes and then chew on them!! I love this puppy so much!! He has been so easy to house train. Wednesday we start puppy school with him. I am looking forward to seeing the other puppies in the class.
Well, I guess that is all I have for now. Happpy knitting!!