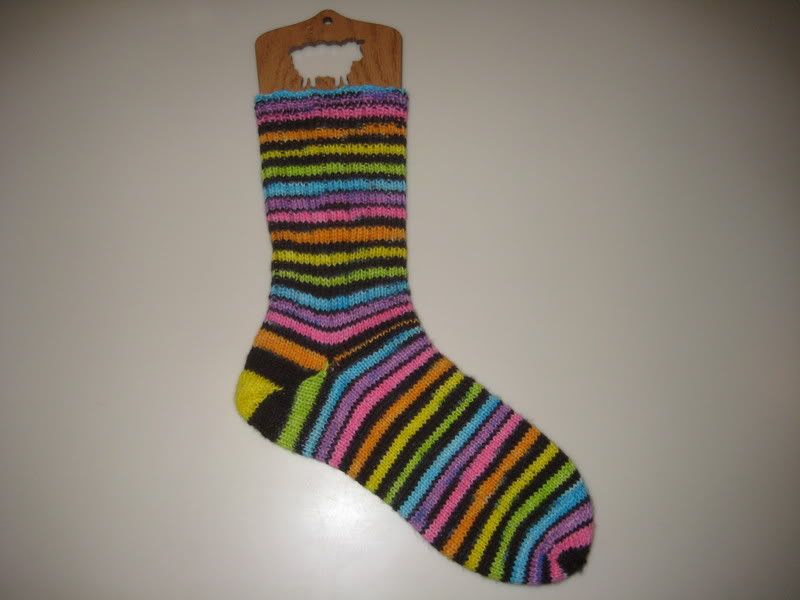 FINISHED SOCK AND REALITY CHECK
This is the first sock made from the yarn I got from
Shelly.
Isn't it cool yarn? It was fun the see the stripes come alive. I bought some sock blockers from
The Loopy Ewe .
I don't like how my legs and feet look in pictures, so I thought this would be a nice way to show my socks that I complete. I may have made the sock a bit too long, but it's okay with me. I'm just glad I finally have a completed object to share with you. Now to explain the reality check part of the title.
I heard from the technical school about starting the sonographers program. Guess how long the wait is to get into the program....Fall of 2010!! That is if you have the classes needed just to get on the waiting list. I probably would need a few classes first, so we are looking at getting into the program in 2011. Then two years for the program. Now, I am not a spring chick, and this is the first time I have really thought about being a middle aged woman. By the time I finished with all the schooling, I would be 49 years old. Not very likely to get a job, huh?! Even though my body feels middle aged sometimes, I guess I never really gave my age much thought. When I get together with my friends, I still feel like a kid. I graduated from college 20 years ago and will be going to my 25th high school reunion in August. After I got the phone call, I was pretty bummed. My kids will be in college in 2011 and 2012. Patrick will graduate in 2015. We didn't budget for me to go back to school, so I guess I won't be.
I am okay with not going to school, what I am not okay with is the reality of being a middle aged woman. I need to process this. How could I not have thought about my age before now? It's weird, but I never really did. Birthdays have come and gone and I just keep on going. Being out of the job market for 14 years never really came to mind until now. I guess the best thing I can do now is try to enjoy my choice of being a stay at home mom, with teenagers!! It is just another chapter in my parenting book. I'll have to let some of the crap that my son says to me just roll off my back and try to not let it hurt my feelings. I've decided that I can just take a time out for myself when he gets to me. I'll remove myself from the stress(if possible) and hopefully that will make the tense moments a bit easier to deal with.
Well, my hands are sore from the marathon knitting I did today to finish the sock. I'm going to take some A*v*l, and go to bed. Tomorrow Maggie, Patrick, and I are taking a class at
The Yellow Dog.
By friend Chris and her daughter and two grandsons are taking the class too. We will be making our own knitting needles and dyeing yarn with Kool-Aid. It will be fun!! Happy knitting!!